One Company, one order, one contact ... lightening workloads for 42 years
Our Story Began 42 Years Ago... sales, sourcing and supply
We are very proud to be a major supplier of books and related products to many of the UK's premier cultural and tourist attractions.
With our long established history we have been at the forefront of implementing, creating, marketing and event management. Developing book shops and retail spaces, bringing unique products that complement our clients own history and collections. 
Our reputation for outstanding service and our passion for seeking engaging books & gifts for shops and exhibitions has created an extremely successful partnership with our clients.
At Heritage Books we are unique in what we do – offering a flexible, adaptable service, tailored to the needs of each client. We have the experience and expertise to assist our clients through every stage of developing their book range for museums, art gallerys, theatres, music studios, cultural attractions, sports venue shops and exhibitions.
Exceptional customer support is just one of our many key strengths and at Heritage Books we will continue to fully manage all aspects of your book ordering and supply requirements from start to finish.
You are NOT tied into any contract.
We do not set a minimum order qty and we do not charge P&P*
*See full T&C's for details
How we find books for you
Another of our major strengths is that we offer a unique research service unlike any other.
With so many choices you will need help selecting titles, with our 42 years experience we will ensure that you personally get to see the right type of books. Books your visitors will enjoy, that compliment your collection and that will help improve your retail performance.
Through continual consultation and by using the very latest resources from the World's leading publishers, Heritage Books will establish your exact book requirements and actively source and supply the very latest titles for you.

One company, one order, one contact
We understand that retail professionals are very busy working on many different projects with a variety of different products.
At Heritage Books we are proud to be considered an extension of our client's team. We make book searching and ordering as efficient, quick and as easy as possible for you by:
Understanding your collection, story, visitors and upcoming events and exhibitions
Keeping you up to date with suitable titles and new publications that will compliment your retail space and enhance your range
Request review copies to keep you up to date with the latest titles and trends
Help plan author events, signing and exhibitions 
A preferential discount to help maximise your budget
As a leading supplier to the UK's premier cultural and tourist attractions, we are very proud of how they value our  partnership and services.
They are in constant touch with us to source suitable books for their exhibitions,
events and shops. If you would like to know more about the different clients we work with, please do contact us.
"Shakespeare's Globe has worked with Heritage Books for over twenty years and they have provided a consistently excellent service. They are able to source all kinds of books and more for us, from books aimed at younger readers and jigsaws to specialist academic works dealing with theatre practice and play scripts. As a buyer Heritage Books is invaluable – we take titles from over 100 publishers and being able to order them all through Heritage Books rather than individually is a fantastic time saver".
"As a small museum and charity, The Old Operating Theatre Museum & Herb Garret has benefitted greatly from working with Heritage Books. It is extremely helpful for us to be able to access so many different publishers but also to be able to just order everything collectively. Also, we love the fantastic and personalised service! The recommendations of titles specific to us and our audience is always appreciated."
"Tyne and Wear Archives and Museums, representing 9 venues in the North East, have used the services provided by Heritage Books for over 7 years. We have welcomed their support and expertise in sourcing books for our annual exhibition programme and specialised publications for each unique venue from museums, galleries and Roman Forts. We have a wide variety of visitors per annum from the very young to the retired, with each visitor requiring a book selection to satisfy a variety of interests.

As the sole buyer, having Bunie and Adam on the team, extends my ability to purchase relevant books and essential titles, whilst sourcing other commodities required for our retail offer. It has made book buying a smooth process and their support is now invaluable."
"We have used Heritage Books for our special exhibition pop-up shop. The customer service is excellent and they are always very helpful"
"Working with Heritage Books allows us to stock a broad range of titles from multiple publishers whilst dealing with a single contact for placing orders. They have also helped in tracking down titles that we would otherwise have not known about or found difficult to source."
With our extensive client base we can support very small independent shops to large council museum groups.
If you would like to open a trade account, talk through our service in more detail and discover how we can help you, please do contact us.
Adam Loveridge : Director : [email protected]
Bunie Loveridge : Director : [email protected]
Sarah: Operations Director : [email protected]  
Beth : Accounts Mng : [email protected] 
Thank you, we look forward to working with you.
Adam Loveridge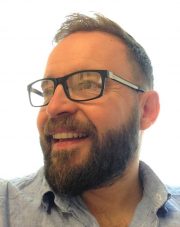 In order to comply with General Data Protection Regulations (GDPR), G.G Loveridge Ltd ( TA Heritage Books ) has a Privacy Policy. The policy covers how we store and use your data, and how we share your data with others. If, at any time, you wish to verify, update or amend how your data or preferences are used please write to us at [email protected] or Heritage Books, St Stephens, Siddington Rd, Cirencester, GL71PE.